TRUSTED BY PEOPLE AT COMPANIES BIG AND SMALL...
Creating Professional Documents is an Important Skill that You Can Use for Your Entire Career
This Professional Business Writing Training Course provides you with the knowledge and techniques to plan, design and structure a diverse range of business documents including emails, proposals, reports and newsletters to create greater clarity and impact for the reader.
The PD Training Business Writing Course will benefit people at all levels of the organisation. This course has a strong focus on writing effective email and other business documents for better readability, ensuring that messages are communicated concisely and clearly. Learn skills like how to structure letters and proposals, constructing sentences and paragraphs, proofreading and editing techniques and much more.
Professional Business Writing training is great for all staff and more fun than you think. Attend a course today or have a trainer come to your workplace in Auckland,Christchurch or Wellington.
Contact us today for a group quote or register now into the next public course date.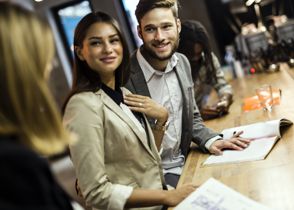 Download

Business Writing Training Course

Outline
Training courses for Business Communication
How You And Your Team Will Benefit From This Training
In this course participants will:
Gain a better understanding of common spelling & grammar issues in business writing
Review basic concepts in sentence & paragraph construction
Learn to use business email professionally & effectively
Learn how to write agendas, email messages and business letters
Understand the key elements of a great written proposal
Master techniques for improved proofreading skills
Learn how peer reviews can help improve business writing skills
Gain an understanding of printing and publishing guidelines
Here Are Just Some Of The Skills You'll Learn
Business Writing Training Course - Lesson 1
Writing Basics for Professionals


Spelling Basics
Grammar Basics
Building a Quick Reference Guide

Business Writing Training Course - Lesson 2
Effective Sentence Structure


Sentence Structure Explained
Punctuation Explained
Sentence Variations

Business Writing Training Course - Lesson 3
Powerful Paragraphs


Parts of a Paragraph
Organisation Techniques
Paragraph Transition

Business Writing Training Course - Lesson 4
Business Meeting Agendas


Basic Format Explained
Choose Best Structure
Write the Meeting Agenda

Business Writing Training Course - Lesson 5
Professional Email Etiquette


Addressing Your Message
Appropriate Use of 'Urgent' Flags
Introduction – Body – Conclusion
Write Descriptive Subject Lines
Don't Make Them Scroll!
Don't make Them Translate
Don't Use Redundant Wording
Readable Paragraphs
Salutations Explained
Auto Signature
Corporate Communications Taglines
Using 'Draft' Feature
Using 'Time Delays'
Grammar and Acronyms
Email Style
Choosing a Style
Writing the Email

Business Writing Training Course - Lesson 6
Writing Professional Business Letters


Business Letter Structure
Use Proper Spacing
Formatting and Layout
Write the Business Letter

Business Writing Training Course - Lesson 7
Business Proposals


Proposal Structures
Key Elements to Effective Proposals
Information Not Required

Business Writing Training Course - Lesson 8
Business Reports


Various Reports Structure
Key Elements of a Useful Report
Tables, Graphs and Images
Avoid Common Errors

Business Writing Training Course - Lesson 9
Various Other Business Documents


Requests for Proposals
Projections
Executive Summaries
Business Cases

Business Writing Training Course - Lesson 10
Proofreading and Editing


Proofreading Techniques
Using Peer Reviews
Printing and Publishing Tips
Choose Your Preferred Delivery Option
Public Training or In-House Training
Public Training
Small classes, average 5 people, max 16
Expert trainer with minimum 5 years' experience
All attendees earn a Certificate of Completion
Lunch and refreshments provided
Flexible payment: Invoice or Credit Card
Achieve a tangible and measurable ROI
Prices excl. GST
9:00 a.m. - 4:30 p.m.
Small, average 5 people, max 16
Pay on Invoice or Credit Card
Select your preferred date below to book online:
In-House Training
In-House training is delivered anywhere in your preferred location by an expert trainer with a minimum of 5 years' experience with the topic.
Tailored to your team at no extra cost
Cost effective - great group pricing
You choose the day, duration, place and time
Flexible length - sessions as short as 1 hour
Greatest impact in the shortest time
Great team building opportunity
More convenient, people don't need to go off-site
World's leading reinforcement system
Your Learning Experience is Enhanced with Our Orgmenta App
Pre-Class Activities | Always Available Courseware | On Demand Support
The Orgmenta app was designed to maximise the benefits of attending a PD Training Course.
The app allows you to provide feedback, before the course, on what you would prefer to focus on and also provides you with an insight into your own personal learning style.
This information allows us to tailor each course to your specific needs.
After the course, the app provides you with easy access to a range of post-course support tools including bonus training content, private forums, videos and electronic courseware.