TRUSTED BY PEOPLE AT COMPANIES BIG AND SMALL...
Did You Know That Non-Verbal Language Accounts for Up to 55% of How We Communicate With Each Other?
The ability to interpret body language is a skill that will enhance your ability to exhibit, read and understand non-verbal communication.
The PD Training Body Language training course will enable you to recognise the body language of others while being aware of what your own body is communicating. You'll learn how to read facial expressions, gestures, posture, voice variations and movements.
Body Language training courses are available now throughout New Zealand, including Auckland, Christchurch or Wellington.
Please click on the Public Class tab below to view our Body Language Training course schedule by city or click the In-House Training tab to receive a free quote for courses delivered at your preferred location.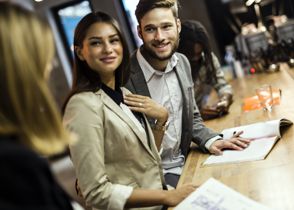 Download

Body Language Training Course

Outline
Training courses for Personal Development
How You And Your Team Will Benefit From This Training
In this course participants will:
Learn how to translate gestures into words
Understand the difference between open & closed body language
Learn how to avoid common body language mistakes
Gain insight into the differences in body language between genders
Understand the signals you're sending to others
Learn the role facial expressions play in body language
Learn how to use body language to strengthen your negotiations
Understand how body language can expose deception
Learn how to match words with movement to instill trust
Here Are Just Some Of The Skills You'll Learn
Body Language Training Course - Lesson 1
Meet the Ics Family


Meet the Family
Mr Proxemics
Mrs Haptics
Cousin Vocalics
Uncle Chronemics
Godfather Kinesics
Reflection

Body Language Training Course - Lesson 2
Becoming Who You Want To Be


Aligning Verbal and Non-Verbal Communication
Body Language and Emotion
Common Gestures
Reflection

Body Language Training Course - Lesson 3
The Body Explored


The Windows to the Soul
What you say with your mouth
The Power in your Hands
Taking a Stand
Reflection

Body Language Training Course - Lesson 4
Body Language in Business


Please Sit Down
Negotiation
Building Rapport
Body Language Observations
Reflection

Body Language Training Course - Lesson 5
Exposing the Art of Deception


Common Gestures associated with Lying
Other Deceitful Attributes
Reflection

Body Language Training Course - Lesson 6
Body Languages Across Cultures


Behaviours Across Cultures
Listening Habits and Audience Expectations
Some things are universal – other things are not
Touch
Reflection

Body Language Training Course - Lesson 7
Reflections


Create an Action Plan
Accountability = Action
Choose Your Preferred Delivery Option
Public Training or In-House Training
Public Training
Small classes, average 5 people, max 16
Expert trainer with minimum 5 years' experience
All attendees earn a Certificate of Completion
Lunch and refreshments provided
Flexible payment: Invoice or Credit Card
Achieve a tangible and measurable ROI
Prices excl. GST
9:00 a.m. - 4:30 p.m.
Small, average 5 people, max 16
Pay on Invoice or Credit Card
Select your preferred date below to book online:
In-House Training
In-House training is delivered anywhere in your preferred location by an expert trainer with a minimum of 5 years' experience with the topic.
Tailored to your team at no extra cost
Cost effective - great group pricing
You choose the day, duration, place and time
Flexible length - sessions as short as 1 hour
Greatest impact in the shortest time
Great team building opportunity
More convenient, people don't need to go off-site
World's leading reinforcement system
Your Learning Experience is Enhanced with Our Orgmenta App
Pre-Class Activities | Always Available Courseware | On Demand Support
The Orgmenta app was designed to maximise the benefits of attending a PD Training Course.
The app allows you to provide feedback, before the course, on what you would prefer to focus on and also provides you with an insight into your own personal learning style.
This information allows us to tailor each course to your specific needs.
After the course, the app provides you with easy access to a range of post-course support tools including bonus training content, private forums, videos and electronic courseware.