TRUSTED BY PEOPLE AT COMPANIES BIG AND SMALL...
Boost Your Confidence and Career with the Ability to Deliver a Presentation or Speech in Any Setting
We all know that speaking in public consistently ranks as one of people's greatest fears, but with professional training and practice you too can become an effective public speaker or presenter.
This 1-day Public Speaking training course will prepare you for delivering live presentations by covering skills like how to overcome nervousness, how to boost your confidence, how to read your audience, using icebreakers, how to best interact with questions or interruptions and much more.
The PD Training Public Speaking course also provides you with valuable presentation skills, including in-depth information on developing an engaging program and delivering professional presentations with confidence and flow.
This engaging and fun training course is available now in Auckland, Christchurch or Wellington.
Please click on the Public Class tab below to view our Public Speaking Training course schedule by city or click the In-House Training tab to receive a free quote for courses delivered at your preferred location.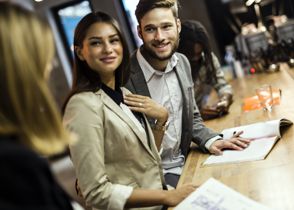 Download

Public Speaking Training Course

Outline
Training courses for Personal Development
How You And Your Team Will Benefit From This Training
By the end of this course, participants will be able to:
Analyse an audience & tailor the delivery accordingly
Design presentations for maximum impact
Expand on key points to ensure clarity
Master techniques to overcome nervousness & present with confidence
Practice techniques that ensure clear, concise & effective wording is used
Deliver a polished, professional & credible speech
Handle questions & comments effectively
Here Are Just Some Of The Skills You'll Learn
Public Speaking Training Course - Lesson 1
Identifying your Audience


Performing a Needs Analysis
Creating an Audience Profile
Identifying Key Questions and Concerns

Public Speaking Training Course - Lesson 2
Creating the Outline


Outlining the Situation
Identifying the Task that had to be Performed
Listing the Actions You Took
Revealing the Results

Public Speaking Training Course - Lesson 3
Organising the Program


Making Organisation Easy
Organisational Methods
Classifying and Categorising

Public Speaking Training Course - Lesson 4
Fleshing it Out


Identifying Appropriate Sources
Establishing Credibility
The Importance of Citations

Public Speaking Training Course - Lesson 5
Putting it all Together


Preparing Your Presentation
Having a Plan B
Reviewing, Editing and Re-writing

Public Speaking Training Course - Lesson 6
Being Prepared


Checking Out the Venue
Gathering Materials
The 24 Hour Checklist

Public Speaking Training Course - Lesson 7
Overcoming Nervousness


Preparing Mentally
Physical Relaxation Techniques
Appear Confident in Front of an Audience

Public Speaking Training Course - Lesson 8
Delivering Your Speech - Part One


Starting Off in a Positive Manner
Using Visual Aids and Prompts
Checking the Volume of Your Voice

Public Speaking Training Course - Lesson 9
Delivering Your Speech - Part Two


Adjusting on the Fly
Gauging Whether Breaks are Required
Wrapping up and Winding Down

Public Speaking Training Course - Lesson 10
Questions and Answers


Ground Rules
Answering Questions That Sound Like an Attack
Dealing with Complex Questions
Choose Your Preferred Delivery Option
Public Training or In-House Training
Public Training
Small classes, average 5 people, max 16
Expert trainer with minimum 5 years' experience
All attendees earn a Certificate of Completion
Lunch and refreshments provided
Flexible payment: Invoice or Credit Card
Achieve a tangible and measurable ROI
Prices excl. GST
9:00 a.m. - 4:30 p.m.
Small, average 5 people, max 16
Pay on Invoice or Credit Card
Select your preferred date below to book online:
In-House Training
In-House training is delivered anywhere in your preferred location by an expert trainer with a minimum of 5 years' experience with the topic.
Tailored to your team at no extra cost
Cost effective - great group pricing
You choose the day, duration, place and time
Flexible length - sessions as short as 1 hour
Greatest impact in the shortest time
Great team building opportunity
More convenient, people don't need to go off-site
World's leading reinforcement system
Your Learning Experience is Enhanced with Our Orgmenta App
Pre-Class Activities | Always Available Courseware | On Demand Support
The Orgmenta app was designed to maximise the benefits of attending a PD Training Course.
The app allows you to provide feedback, before the course, on what you would prefer to focus on and also provides you with an insight into your own personal learning style.
This information allows us to tailor each course to your specific needs.
After the course, the app provides you with easy access to a range of post-course support tools including bonus training content, private forums, videos and electronic courseware.